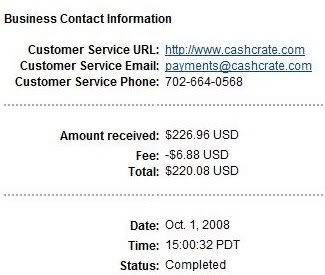 CashCrate now gives you the option of getting paid via PayPal so I thought I would give it a try. Here it is one day after month end and I have already gotten paid by Cash Crate for September as you can see from the screen-print. So, if you are looking for how to make quick money with Paypal, CashCrate might be the answer. I had another pretty good month even though the site seemed to be down intermittently.
Unfortunately PayPal took out a fee of $6.88 and so I have just switched my payment method back to a paper check where they don't take any fee. I thought I would give the PayPal payment method a try once but a six or seven dollar fee is too much.
This quick payment is once again proof that CashCrate is the best free paid survey site there is. It is one of the great ways for teens to make money as you only have to be 13 years to join and start making easy money. Sign up, read the forums if you like, take some surveys, start referring people and start making money with CashCrate.